This page shows the opening of Droylsden Wharf in September 2008.
Developers Watkin Jones along with Tameside Council held a special event to celebrate the completion of the marina and the opening of the first phase of apartments on the development.
Following speeches in a marquee, Councillor Kieran Quinn cut the tape to open the residential property. Guests then boarded the "Still Waters" trip boat for a short cruise from the Ashton Canal into the new Droylsden Wharf marina basin.
Mooring pontoons have been put in place for the marina.However, the current downturn in the housing market will have an impact on the short-term future of this development.
The buildings currently under construction will be completed but the next phases of the development have been put on hold until the economic climate picks up again. This means that it will be some time before the marina is surrounded by residential and commercial properties.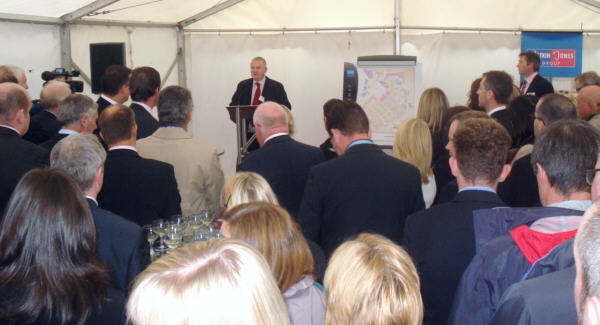 1. Councillor Kieran Quinn addresses guests in the marquee.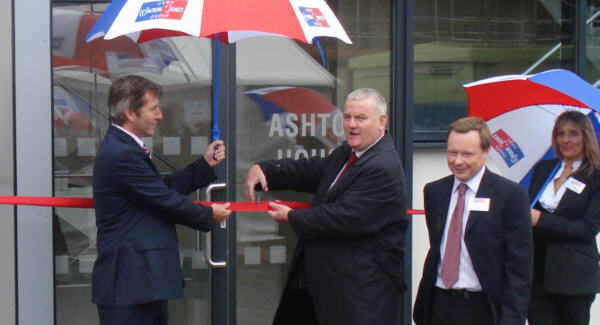 2. Councillor Kieran Quinn cuts the ribbon to open the waterfront apartments.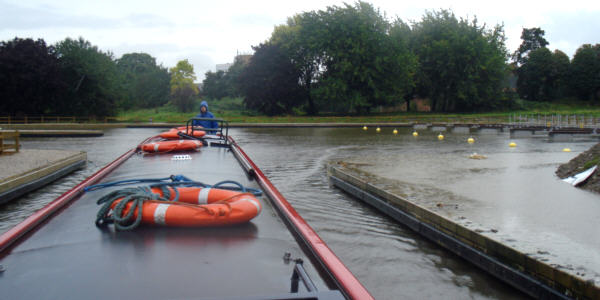 3. The guests then took a boat trip around the new marina. Unfortunately it was raining heavily so plans for guests to disembark and walk around were abandoned.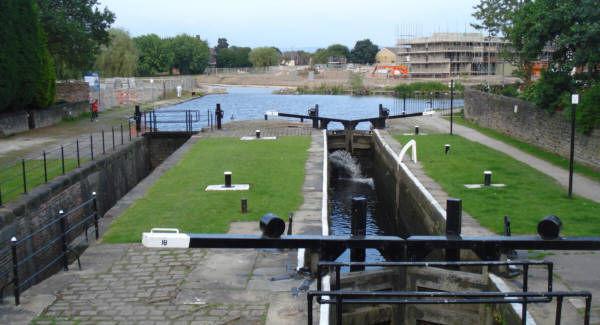 4. The new look of Fairfield Junction with the new section of canal leading off to the left.
See photos of "cutting the first sod" at the marina site!

See photos of progress at the marina site in March 2008.

See photos of progress at the marina site in May 2008.

See photos of water being let into the marina in May 2008.

See photos of the marina in water, July 2008.

See main page about Droylsden marina development.