New! Canal Trail around Daisy Nook. View and listen with your phone as you walk around, or from the comfort of your home.
See Canal Trail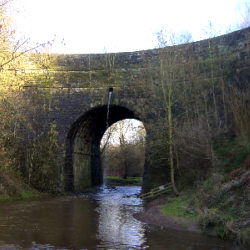 Waterhouses Aqueduct, Daisy Nook
The Hollinwood Branch of the Ashton Canal ran from Fairfield in Droylsden, through Littlemoss and Daisy Nook Country Park to Hollinwood and Butler Green, with a branch from Daisy Nook to Fairbottom.
The canal's location lies between Manchester, Ashton under Lyne and Oldham in the north west of England.
The canal included four aqueducts and eight locks, including a two-rise lock staircase.
The society aims to see the protection of the line of the canal, the preservation of the remaining heritage, the restoration of the canals within Daisy Nook Country Park and the re-connection of Daisy Nook with the Ashton Canal.
The society would like to see the canal route protected as a green corridor for walking, cycling, fishing and eventually boating between Droylsden and Daisy Nook. It would like to see the route protected between Crime Lake and Hollinwood, providing a green and pleasant route linking the built-up areas to the countryside.
Contact:
Correspondence preferred by email:


Address for postal correspondence:
2 Rock Bank, Stamford Road, Mossley, OL5 0BD
The Hollinwood Canal Society is a Registered Charity (no.1104942) and a company (no.5056634) limited by guarantee.
Visit our Facebook Page and click "Like" to receive news and updates on you Facebook wall.