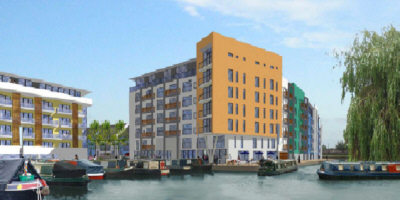 Artist's impression of Droylsden Wharf Development
Droylsden Marina
A short section of the canal in Droylsden is now back in water as part of the Droylsden Wharf development! This has included the construction of a 175 metre channel from the Ashton Canal at Fairfield Junction and a small marina basin which will become the centrepiece of the completed development.
The former swimming baths have been demolished to make way for the development and have been replaced by a superb new pool at Medlock Leisure Centre in Droylsden.
The original proposals included buildings blocking the line of the canal beyond the marina but representations from the society have resulted in modifications, so that the line of the canal could now be restored through to Manchester Road Bridge and beyond. The re-building of Tesco's store to the north of Manchester Road will not affect the line of the canal.
Watkin Jones are the developers appointed by Tameside Council while British Waterways were given the task of the canal design work.
Some of the original wash walls were still in place but were in poor condition. Retaining them would have created problems for the site layout and led to maintenance problems, so the new canal was built from scratch, with new wash walls.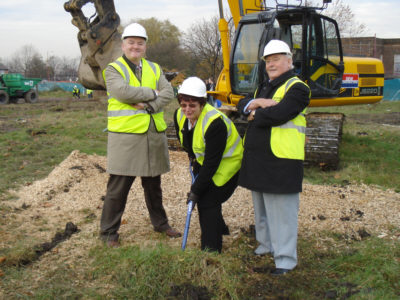 Local councillors "cutting the first sod".
The section of canal route between the marina basin and Manchester Road Bridge will not be restored at this stage, but the route will be preserved and will pass under a new building spanning the canal line.
Improved facilities for boaters have been opened at Fairfield Junction, rather than placing, for example, toilet emptying in amongst the new canalside shopping and bar area!
The first phase, involving construction of apartments alongside the main line of the Ashton Canal, began in 2007 and in mid-November, the developers moved onto the main site for the marina development.
Tameside Council's three local councillors for Droylsden East, Keiran Quinn, Susan Quinn and Jim Middleton took part in a ceremonial "cutting of the first sod", watched by Debbie Lumb, North West General Manager for British Waterways, Andy Shaw of developers Watkin Jones and representatives of the Hollinwood Canal Society.
The extensive development will include 90 houses, 291 apartments, restaurants and offices. Councillor Kieran Quinn said: "The marina is the vital component in this exciting development."
See photos of the Marina under construction and the Marina in water.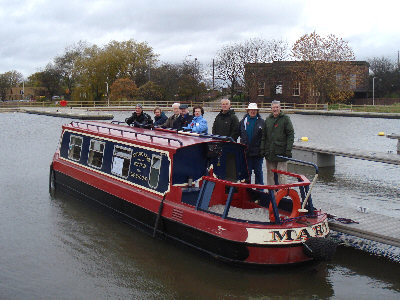 Canal Society members visit Droylsden Marina by boat.